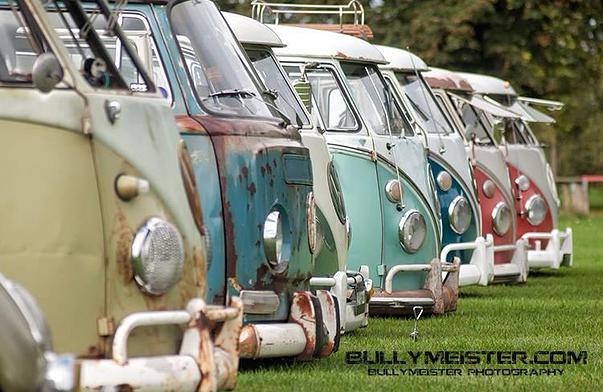 We met the organisers for this first Aircooled 14 event at Stonor last weekend. It promises to be a chilled, aircooled only event with cheap camping and within walking distance of lovely, historic Stratford on Avon itself. So enjoy a great weekend of VW show time with sightseeing and maybe even a pint or a cruise on the Avon.
NOTE: Aircooled vehicles only
Aircooled 14 is a new event on the calendar catering solely for Aircooled Vehicles (Mainly VW's) or those vehicles that were originally aircooled. The camping area will be integrated as part of the main show ground allowing you to keep your vehicle in one location and have a very chilled weekend surrounded by like minded people.
The main show ground will be restricted to Airccoled vehicles only apart from Trade/Catering & support vehicles.
We have lots planned for the event but heres a taste of whats on offer:
Aircooled Traders
Aircooled Catering suppliers wherever possible
Battle of the Bays (Round One)
Vintage Bike Racing
Vintage Bike Paddock
Belgium Beer Bar
Club Camping Areas
Live DJ's who own Aircooled Vehicles
Childrens entertainment
Aircooled Bouncy Castles
What vehicles are eligible?
The centre area within the racecourse will be exclusive for aircooled vehicles only or those vehicles that were originally fitted with an aircooled engine. The only watercooled vehicles allowed into the centre area will be traders/caterers and support vehicles. We hope that people will respect this decision, as there are plenty of shows that cater for the wider VW scene.
Camping
At Aircooled14 the camping area is part of the main show allowing clubs and individual campers to either prep their vehicle or set up club displays whilst remaining in their camping location. Rather than having 2 separate locations all of this will be incorporated into the main aircooled only area within the centre of the Racecourse
We've now had a few requests from people who want to attend the show and camp but their aircooled vehicles are either being restored, they are in the process of buying one or they just want to come along and have a good time. In order to cater for this we have allocated an area just outside the main camping field but still very close to all the action for water-cooled camping.
The main area of the show will still be for aircooled only camping (tents are allowed) and show activities such as the show & shine. This approach allows us to not change the emphasis of the show but allows those that enjoy aircooled vehicles to join in the fun.

Prices:
Weekend Tickets (on sale from 1st April 2014)                                           £25.00
Day Tickets in Advance                                                                                   £10.00
Weekend Camping Tickets will be available on the gate at £30.00
Day Tickets will be available on the gate at £12.50
We are hoping to go to this before we head North for the Tour de France

carl & helen

Club Member





Posts

: 710


Join date

: 2011-02-10


Location

: Burbage



I have confirmed a Prom in Andover on the 27th June which was prior to meeting the folks at Stoner so sadly won't make this one.

Ron

Ronnieboy59

Club Member





Posts

: 568


Join date

: 2011-02-12


Age

: 58


Location

: Andover



Oh that's a shame Ron.
Off to New Forest to meet up with Rob shortly. So i'll give you a bell re FaceBook
Carl

carl & helen

Club Member





Posts

: 710


Join date

: 2011-02-10


Location

: Burbage




---
Permissions in this forum:
You
cannot
reply to topics in this forum